CAROUSEL ANIMAL CONSTRUCTION HANDBOOK
---
Animal stand plans, brass pole sleeve, etc.

GENERIC ANIMAL BASE:
The base should be approximately the size of the animal's torso with the pole positioned such that the torso is directly above the stand base.
Modify the dimensions of this sample according to the size and centering of animal.
Base can be wider or longer or shorter depending on your animal's needs.
MATERIALS YOU WILL NEED:
measure out amount of 1" x 12" pine
1-5/8" panel nails
glue
1/4" round-over router bit
3/8" diameter pin through pipe to hold animal up
1" i.d. pipe, about 48" long
1" pipe flange fitting
1/4" flat head bolts and nuts with washers and lock washers
OPTIONAL:
Brass pole sleeve, slips over the pipe/pole (pipe must extend up out of the animal to do this).
Finial for sleeve, you can buy this or make it on a lathe and gold leaf it.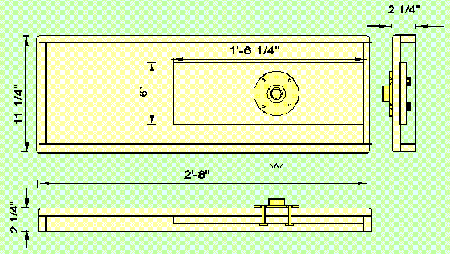 Make this base out of standard 1" x 12" pine from the lumber store. Note that it has a doubler plate under the location of the pipe fitting. With nice wood you can just clear varnish the stand, or primer the whole thing when you are finished, pole included then paint it all flat black for that museum look or use some of the colors from the palette you had when painting the animal which it will hold. Decorative details such as bands, pin stripes and stenciled rosettes on the stand are nice, so is a brass plaque with your name on it as the carver.
The pole is standard plumbing supply 3/4" galvanized or black pipe threaded on one end, it can be painted along with the base. A brass pole sleeve slipped down over the 3/4" pipe is an attractive addition. These sleeves can be found in the classifieds of the Carousel News and Trader magazine.
---
Copyright © 1997-2002 by Dentzel Carousel Company