| | |
| --- | --- |
| | Horse 13 |
---
This beautiful jumper drawing was taken from the Gustav A. Dentzel jumper currently at the Albany Historic Carousel Museum. It was made circa 1895 in the Germantown Dentzel workshops. In the photo below you will notice that this horse is still in its original park paint, a very rare occurrence. The colors are a bit muted due to the workings of time and the application of varnish over the paint. Earlier Gustav horses would have had a real horse hair tail, later on wooden tails were introduced because they lasted longer. Because of the beauty of the real horse hair tails, William H. Dentzel III occasionally used them with his contemporary horses.
Download this image in .PDF or .GIF format.
---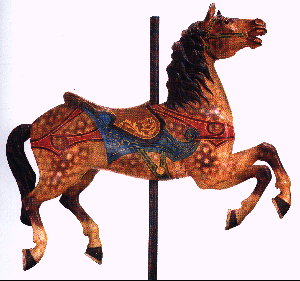 Gustav A. Dentzel Jumper
---
Use browser's Back Button to return to previous page.
Site Copyright © 1997-2015 by Dentzel Carousel Company