| | |
| --- | --- |
| | Reindeer |
---
This Gustav Deer was built circa 1905. The very large antlers are not original, it has also been restored and given a non-original park-paint job (which was a common practice with all carousel animals as they wore out from use). By some odd coincidence, the dog carved into the saddle on this prancing deer is the exact replica of a family dog owned by the Dentzels during the years 1969 to 1984, over sixty years after the deer was carved! This dog, known as "Gorp", was a mixed German Short-haired Pointer and Black Labrador Retriever, this too is strangely coincidental as the mixture of the present day fifth generation Dentzel carousel children is from the Dentzels and Wagners on the German side and the Murrays and Gilmans on the New England, Canadian and Scottish side. Gorp was known to have been as close in human-like intelligence as a dog can get, actually, from his loyalty and kindness one would might say he was on a higher plain than some humans presently occupying earth.
Download this image in .PDF or .GIF format.
---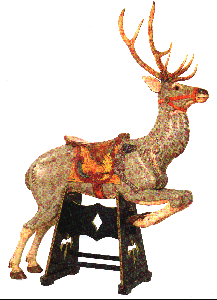 Deer with Dog "Gorp" on Saddle
---
Use browser's Back Button to return to previous page.
Site Copyright © 1997-2015 by Dentzel Carousel Company